I love this book, its classic looking, simple and you can make one in under 5 minutes.
What you'll need: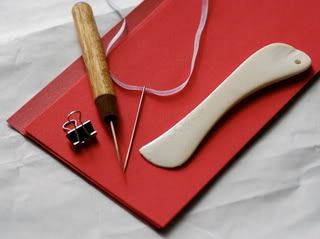 1. A threaded needle (ribbon, raffia, yarn, embroidery thread, you can use just about anything)
2. An awl or large needle
3. Scissors
4. Interior pages, 15-25 is a good place to start, you don't want to make it too thick.
5. Cover paper. (cover paper should be about 60lbs or heavier).
6. Optional; clips and bone folder.

Cut your papers to preffered size, this one is 4x8 (4x4 when folded), the inside pages can be flush with the cover or you can cut them smaller to create a border. Remember that your cover needs to be a bit longer (about 1/4 inch) than the folded pages to cover the width of the fold.

Step 1. Fold inside pages and cover separately, use a bone folder or your finger to make an even crease.

Step 2. Center your pages inside your cover, use a clip or your fingers to hold them in place.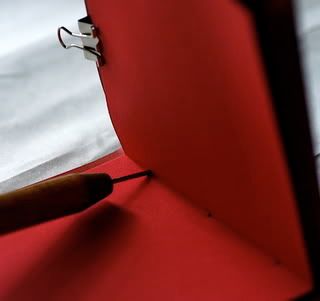 Step 3. Use your awl or heavy needle to punch 3 evenly spaced holes through the papers and cover. (I find it easiest to start with the center hole, it helps get your spacing even.)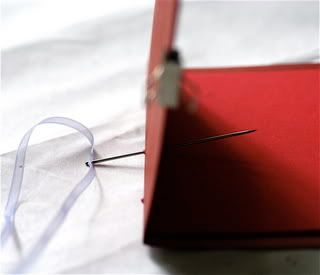 Step 4. Take your threaded needle and go in the center hole from the outside of the book, leave a tail at least 3-4 inches of thread/ribbon.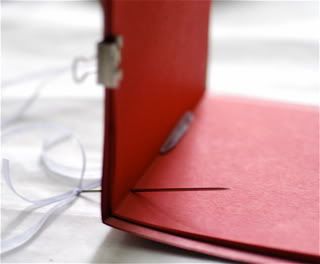 Step 5. Go out through the bottom hole and back in through the top, pullng the ribbon gently to make it snug. This creates a thread/ribbon seam along the back.

Step 6. Sew back out through the center hole. Make sure your tail is on the bottom of the seam and your needle goes out over the top. Gently tighten the ribbon so it is snug on both sides of the book. Cut off the needle. Tie a knot with the ends of the thread/ribbon, make sure your seam is in the center of the knot. Cut the tails to desired length and you're done! Now you have a single signature book and you can easily make a million of them!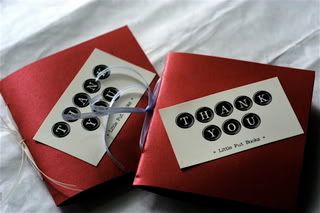 These are wonderful for promos, gifts or just a great way to make use of your scrap papers. *Make sure the paper you choose for the cover is a heavy weight; wall paper samples, fabric swatches, old calendar pages or magazine covers all make great book covers. You can add beads to the ribbon tails and mix up the interior pages or put together a collection of you art work and photos, what ever suits your imagination. If you make some be sure to send me pictures, I'll be posting them all in a new article here on the blog.
Have fun with it and let me know if you have any questions.
Ryan *girl*